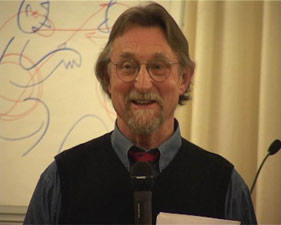 Renowned scholar John Shotter passed away on December 8, 2016 after a long illness. John loved to talk and to listen, to create conversation about everything, most especially about conversation itself. His contributions to social constructionism, Open Dialogue and a radically humanistic psychology are acknowledged and studied the world over.
I got to know John in the 1990s. Fred Newman and I studied his work and had the pleasure of many conversations with him about our and his efforts to create a new psychology and our and his understanding of what language is and isn't. It was our mutual interest in and the inspiration we took from Vygotsky and Wittgenstein that especially drew us together.
In 2015, after not seeing John for many years and hearing he was ill, we had a short phone conversation. He was as filled with wonder and as a good a listener as ever. I am glad we spoke and that his work lives on.
John's style of writing (plus how much he wrote) makes him difficult to quote out of context. However, here are two excerpts from a book from the 1990s, Conversational Realities: Constructing Life through Language.  (His latest book, Speaking, Actually: Towards a New 'Fluid' Common-Sense Understanding of Relational Becomings, is due out any day now.)
My aim…is to try to release psychology from its 'colonization' by an ahistorical, asocial, instrumental, individualistic 'cognitivism' and to open it up to a more loge-scale, participatory or dialogical form of research activity.
***
In a true democracy, people do not need a special caste of self-licensed experts to run their affairs from them, for even ordinary people have the ability (and the right) to play a part in the shaping of their lives with others, and to have what they say or do taken seriously.