I had a wonderful time this past weekend at the 2016 North Carolina Honors Association Conference in Greensboro North Carolina. It was a privilege to be the keynote speaker at the opening banquet, especially since the conference theme was "Innovations in Pedagogy, Research, and Learning: Using Play, Performance and Improvisation." I titled my talk,"Honor Your Playfulness" and spoke to the 90 or so students from across North Carolina about play as movement and how we must move in order to get unstuck—emotionally, intellectually, culturally.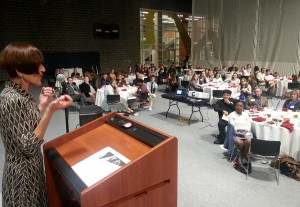 The next day I participated in separate student and faculty workshops and the combined performance and debrief that ended the conference. It was inspiring to be with young leaders as they organized environments for stepping out of societal roles and creating something new together, for uniting learning and development, and for creating new kinds of conversations between students and faculty. I was also touched to meet many caring and creative professors.
Omar Ali, the Dean of the Lloyd International Honors College at the University of North Carolina at Greensboro (the host of this year's conference), embraces performance as not only an effective pedagogy but equally as a new type of university culture and an activity that bridges campus and community. His dynamic team includes current and former students Domonique Edwards, Tiera Moore and Aliyah Ruffin (pictured below). My thanks to Omar and his team, to Conference Chair Angela Bolte, and to the students and faculty.
A bit of what I said…"Play is also how we create new communities. There's something very special about belonging to a community or a group that you were part of creating, that didn't exist before, that got built through you and others working and playing together. You not only have the community but you also have new kinds of relationships with your fellow builders, relationships nurtured and supported by the very community you built! Now, that's transformative!" Read More