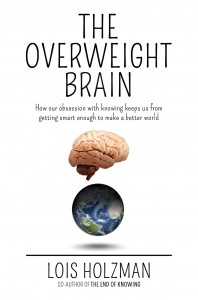 Here's a sneak peek at the next chapter of The Overweight Brain.
I'm giving it the working title — "The Cult(ure) of Science"
Chapter 7. The Cult(ure) of Science
My beef with science isn't that it's a scam. Sciences like chemistry, anatomy, biology and physics—unlike psychology—don't purposely distort what they're studying to make it studiable. (This may happen unknowingly, however.) So while psychology often treats people as if we're atoms or grains of sand, science doesn't treat atoms or grains of sand as if they're people. (Although some science teachers and popular science writers do—as if the only way we non-scientists can understand anything non-human is if you pretend it's human.) Science, most times, tries to do justice to its objects of study.
Of course, it can't—not in the real world. And that includes the laboratory, for labs are part of our world. Science may not intentionally distort what it studies, but it does distort what it means to study something. It does so in its claim to be objective—indeed, to be the only objective mode of study and understanding there is. When it's said that science is objective, what's meant is that it is "true" to the facts, unbiased and free of influence from personal beliefs and any particular cultural or political perspectives or institutions. There's a similarity here to when you or I say, in everyday conversation, "Of course, you'd say that. You're my mother—you can't be objective!" But in science it's s a grander claim with far more at stake.
I hope you want to read more!