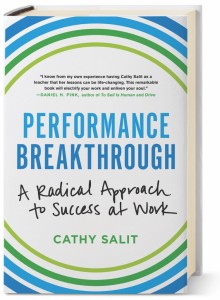 My friend and colleague Cathy Salit, CEO of Performance of a Lifetime and an East Side Institute faculty member, has a new book coming out on April 12. For many years, Cathy and her team have brought the power of performance to the people who work in hundreds of global companies and non-profit organizations.
Her book, Performance Breakthrough: A Radical Approach to Success At Work, introduces a performance approach to life at work, the core of which Performance of a Lifetime calls "the becoming principle." What's so exciting to me about Performance Breakthrough is that it articulates the being-and-becoming performance methodology of social therapeutics in a wonderfully accessible and entertaining way.
You can pre-order Performance Breakthrough by clicking HERE, and you'll immediately receive an advance copy of the first chapter. You'll love it!