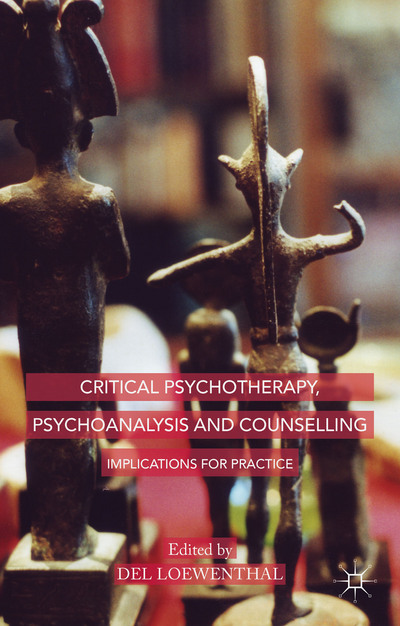 I just got word that a new book to which I contributed is hot off the presses. It's titled Critical Psychotherapy, Psychoanalysis and Counselling: Implications for Practice. Editor Del Loewenthal, Professor of Counselling and Psychotherapy at the University of Roehampton in the UK, has done an impressive job of bringing together a diverse group across the "critical" spectrum. It's a privilege to be among them—long-time friends and colleagues Del, Ken Gergen, Ian Parker, and Tom Strong—and many others I've heard about but not met yet.
In my chapter, "Relating to People as Revolutionaries," I carry forward from Fred Newman's 1986 speech, "The Patient as Revolutionary," delivered in Havana at the conference of the Interamerican Society of Psychology, to the present day. In the decades since then, even as mainstream psychology continues to reinvent itself to stay in the natural science camp, critiques of it and critical practices continue to be created. Social therapy is among them, not merely a critical psychology but a practical-critical one—not merely pointing out the authoritarianism and commodification that permeates our lives, but helping people to chip away at it. I use the term"authoritarian commodification" to describe professional, institutionalized psychotherapy, counseling and social work in the US and, increasingly, elsewhere. Here's my chapter ending:
"[Authoritarian commodification] is epitomized by the nearly universal necessity of a DSM or ICD diagnosis in order to help or be helped. In the face of such dehumanizing by authority, the practical-critical practice of social therapy is one method of supporting people to exercise power without commodification. It is this psychological struggle that I urge critical psychotherapy and counseling to support in their work with clients."
I'm sharing the book's Table of Contents as a snapshot of the collection.
PART I: INTRODUCTION
Talking Therapies, Culture, the State and Neo-liberalism: Is There a Need for Critical Psychotherapy, Psychoanalysis and Counselling? Del Loewenthal
PART II: WHAT CAN WE LEARN FROM CRITICAL PSYCHIATRY AND CRITICAL PSYCHOLOGY?
The Medical Model: What Is It, Where Did It Come from and How Long Has It Got? Hugh Middleton
Toward Critical Psychotherapy and Counselling: What Can We Learn from Critical Psychology (and Political Economy)? Ian Parker
The Neurobiological Turn in Therapeutic Treatment: Salvation or Devastation? Kenneth J. Gergen
PART III: USERS' PERSPECTIVES
Personal Versus Medical Meanings in Breakdown, Treatment and Recovery from 'Schizophrenia' Tom Cotton and Del Loewenthal
PART IV: CRITIQUES COMING MORE FROM OUTSIDE
Critical Theory and Psychotherapy Anastasios Gaitanidis
When Love Is Not All We Want: Queers, Singles and the Therapeutic Cult of Relationality Mari Ruti and Adrian Cocking
Relating to People as Revolutionaries Lois Holzman
Work in Contemporary Capitalism Michael Rustin
PART V: CRITIQUES COMING MORE FROM INSIDE
Everything You Always Wanted to Know About Therapy (but Were Afraid to Ask): Fragments of a Critical Psychotherapy Andrew Samuels
Critical Priorities for the Psychotherapy and Counselling Community Colin Feltham
The Deleuzian Project Chris Oakley
Psychoanalysis and the Event of Resistance Steven Groarke
Psychology, Psychotherapy – Coming to Our Senses? Paul Moloney
PART VI: CRITIQUES OF TRAINING AND LEARNING
Contesting the Curriculum: Counsellor Education in a Postmodern and Medicalising Era Tom Strong, Karen H. Ross, Konstantinos Chondros and Monica Sesma-Vazquez
Systemic Means to Subversive Ends: Maintaining the Therapeutic Space as a Unique Encounter Jay Watts 
PART VII: IS THERE AN UNFORTUNATE NEED FOR CRITICAL PSYCHOTHERAPY, PSYCHOANALYSIS AND COUNSELLING?
17. Psychotherapy, Psychoanalysis and Counselling for Oppressors and Oppressed: Sex, Violence and Ideology Del Loewenthal