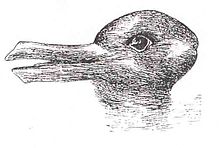 What do you see above? A duck? A rabbit?
In his book Philosophical Investigations, Wittgenstein presents us with this "ambiguous figure" of a duck-rabbit to show us how how perception is not reducible to the mechanism of the eye and optic nerve. (Most people see either a head of a duck or a head of a rabbit and then, sometimes with prompting, see the other—often with surprise.) We can see one thing and now another thing. "So we interpret it and see it as we interpret it." Wittgenstein calls this "noticing an aspect."
About a month ago, I wrote the following little scene riffing on the duck-rabbit. It's a bit of whimsy—and my first attempt at playwriting!
Ducks and Rabbits
 Duck: Hi Rabbit. I'm a duck.
Rabbit: Hi Duck. I'm a rabbit.
Dog: Hi to both of you. Before the revolution I was just like you. I don't mean I used to be a rabbit or a duck, but who knows, maybe I was. I mean, I was sure I was one thing and not another. And that was that. For now and forever.
Duck and Rabbit: Of course you are one thing! Everyone is! Are you crazy?
Dog: Maybe I am. I don't know. But I've been living for a long, long time now with humans—centuries—and I think it's changing both of us a lot. I mean, my brothers and sisters aren't becoming more human-like and the humans aren't becoming more dog-like. It's something else. It's like we're creating something that's not either of us—a dog-human relational activity, as one of my favorite humans puts it.
Duck: Quack!
Rabbit: Quack!
Dog: Quack-quack! See what I mean?