A Few Words of Prelude to Chapters 2 and 3
In these next two chapters, I'm continuing the introductions. You'll meet the Soviet psychologist Lev Vygotsky and the Austrian philosopher Ludwig Wittgenstein. Both of them had a profound influence on Fred Newman and me—on our thinking and on our ability to turn our unhappiness with the direction that psychology, psychotherapy and education have taken into positive practice involving any and all who want to participate.
As a result of the Reader Poll, I'm putting notes at the end of the chapters. I'll also continue to use the book mini-blog for extra color (an interesting detour, photos, etc.).
CHAPTER 2. LEV VYGOTSKY, THE LOVING REVOLUTIONARY
A World Class Thinker Who Taught Us About Growing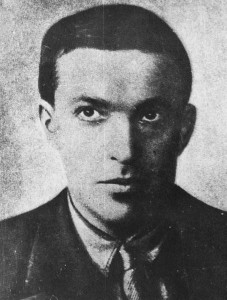 Unless you studied to be a teacher or took a psychology course, you probably haven't heard of Lev Vygotsky. But it's the nature of textbooks to simplify, so even if you did come across Vygotsky in a book, it's likely you got only a fraction or a simplification of his thinking. Most commonly, Vygotsky is portrayed as understanding that children's thinking develops within a social and cultural context, and a contrast is made with the ideas of the more famous psychologist, Jean Piaget. But Vygotsky was so much more (Piaget was too, but that's another story).
Vygotsky lived and worked in the first decades of the Soviet Union. He did his first significant piece of work at age 19—exploring the psychology of art through Shakespeare's Hamlet—and wrote prolifically until his death from tuberculosis in 1934 at the age of 38. Despite the superficiality of the textbook Vygotsky, there's much excitement the world over for his ideas, especially on human learning and development, how important play is to development, and what speaking and thinking are and how they're connected. What he says is provocative to the both academic and popular psychology and, at the same time, just plain common sense.
I'm a Vygotskian. I find psychology without him uninspiring at best and misinformed and misinforming at worst. I think psychology tries much too hard to act like a natural or physical science and gets itself into lots of trouble that way. People aren't stars or atoms or organs, so trying to understand us and teach us and help us as if we were violates our very humanness. Vygotsky didn't do that. He tried to study human beings as the complex beings and doings that we are, not as something simpler. His is a psychology of possibility (not prediction), of development (not diagnosis), of transformation (not treatment), of hope (not hype)—and of the very human becoming activity of human "be"-ings. [See Note1 for ways to learn more.]
When I was in Moscow for the first time many years ago, a psychologist gave me a book that I still treasure. It's about the lives and work of early 20th century Soviet educators, including Vygotsky. The title of the book—One is Not Born a Personality—captures Vygotsky's psychology to be sure. But it also describes Vygotsky's own life-as-lived—constantly transforming and growing amid the tumultuous history that shaped him and which he helped to shape.
Lev Vygotsky was born in 1896 into a non-religious, middles class and highly educated Jewish family in what is now the country of Belarus. Back then in the days of tsarist Russia, it was part of the Pale of Settlement, the area where Jews were allowed to live. The second oldest of eight children, Lev spent his childhood and adolescence in the town of Gomel, and he returned there after his university education in Moscow. There are only a few biographical accounts of his life, all of which speak to his exceptional talents, curious mind, good heart and love for humanity. He appears to have been interested in nearly everything he came in contact with—theater, literature, languages, history, philosophy and art in particular. What's more, he "tried on" many of these roles. While still in his teens, Lev published literary critiques, led study circles and directed stage plays. He spent more than a year writing a thesis on Shakespeare's Hamlet that has been hailed as the work of a 19 year-old genius. He attended both medical school and law school, thinking to prepare for professions that allowed Jews to live outside the Pale of Settlement, but he never completed these studies. Before he left law school, however, he was also studying history and philosophy at Shanavsky University, a progressive and high quality "people's university" with no official government recognition. In his early 20s, Lev founded several literary magazines, wrote a popular theatre column, lectured on history, literature, theater and science, read widely in philosophy, linguistics, history and psychology, and corresponded with some of the leading European thinkers. He could read and speak eight languages, including Esperanto (a consciously constructed universal language), which he taught himself as a boy.
The Russian Revolution of 1917 transformed everything. Socialism's promise of economic and social equality brought great opportunities and great challenges. How to go from semi-feudalism to a planned economy? How to transform from an illiterate to an educated population?  How to activate millions of people from diverse ethnic groups to participate on an equal footing in creating the new society? For the multi-talented and "always becoming" Lev, these were not only economic and engineering tasks. Creating a new society was a cultural and human development task. And for Lev personally as a Jew, the Revolution meant no longer being restricted as to where to live or what kind of work to do. These changes turned him to psychology, a still coming-into-being field that allowed him not only to study how human beings learn and develop but to begin to create a whole new understanding of how to do such studies. [See Note 2 for more on this.]  From 1924 until his death from tuberculosis only ten years later at age 38, Lev Vygotsky devoted his life to creating a psychology that was rigorous, cultural and emancipatory. He held numerous scientific posts, first in his hometown of Gomel and then in Moscow, did creative studies of children's learning and development, established an institute to study children who were blind or had other abnormal conditions, lectured widely and wrote prolifically.
Even as Vygotsky was writing on his deathbed, the Soviet Union's brief period of openness was coming to end in all kinds of ways. Stalin suppressed Vygotsky's writings as not orthodox enough in their Marxism, and they were only kept alive secretly through family and friends. Vygotsky's daughter Gita [see Note 3 for a personal view of Gita] tells how his students would visit him in the sanitarium and sneak his writings out by hiding them in their skirts. After his death Gita and her mother and sister kept his manuscripts under their beds in their Moscow apartment. When her mother died, Gita took charge of keeping the manuscripts safe and getting a volume of them finally published in 1956. For the next twenty years, she and some of Vygotsky's students turned the manuscripts into six volumes of his works, which were published in Russia in the 1980s. The first English translation of anything Vygotsky was in 1962. Much more came over the decades.
Today, Vygotsky is known internationally by educators, psychologists and scholars interested in human language, thinking and learning environments, including virtual ones. Within education, we find Vygotskian-influenced philosophies, curricula and methods in technology, math, science, the arts, literacy, second languages learning, diversity and multiculturalism—and afterschool and informal learning. And other fields of human service, such as mental health, social work, medicine and health care, youth work, and community development are discovering Vygotsky and finding his understandings of human development excitingly relevant.
As I said, Vygotsky's ideas are both provocative and common sense. Let's take a look at some of them. (Much more to come in later chapters.)
The Being and Becoming of Development.
Are people only who they are now? Is that who they'll always be? Surely not! Not if they're little people—month old or year old or five year old people. Babies and children are always becoming. You and I became the persons we are today; we weren't born that way. Vygotsky believed that this becoming activity—human development—is a remarkable social and cultural accomplishment. Those very little people develop because of how others relate to them—not merely as who they are and what they can do today but simultaneously as other than and beyond the now, as who they're becoming. Think about it for a minute. If we didn't relate to babies and little children as both who they are and who they are not, they'd never, ever develop. They'd never learn anything new. They'd never do all the things eight year-olds and sixteen year-olds and forty year-olds do in a particular culture and historical moment. You wouldn't be reading this and I couldn't be writing this if you and I weren't who we are and who we're becoming. And, just as important, if people didn't relate to us with that "double vision" when we were younger—seeing us as who we were (non-readers and non-writers) and who we were not yet (readers and writers). It's common sense, right?
But it's simply not what a century of psychology has led us to believe. With some few exceptions, psychology tells us that development is an individual accomplishment that happens to us from the inside. A person (so the psychology story goes, even with its many, many variations) is a self-contained, incredibly complex biological organism whose fixed internal capacities become manifest in a systematic progression, unless some internal or environmental factors interfere with the "natural order" of things. Vygotsky isn't denying that human beings are biological organisms, but he is rejecting the ideas that we're self-contained individuals and that it's from inside us that development unfolds. He reminds us that we're as much social and cultural as we are biological. And as such, we create development by how we relate to each other. To him, what we do we do with others—like learning to speak by having "conversations" with our mothers, brothers, sisters and fathers, long before we know the language— and that's how we become the unique person each of us is. That's the provocation.
Human Beings are in History, We're in Society, and We Create Culture.
To state the obvious (once it's stated, that is—it's usually not obvious before then), all of us alive today are living in a specific time and place on planet earth. We have a shared history as human beings, and we also have our different "time and place" histories. We have a shared human culture and we also have our different "time and place" cultures. We have a shared "human society" and we also have our different "time and place" societies. A huge part of what it is to be alive and to grow up is to adapt to culture and society, both the "big" shared human ones and the specific "time and place" ones. And even though where and how each of us lives, how people do things, what we do them with, etc. quickly feels natural and as if it's the only way, the fact is it's human beings that created it all. Think: Wearing clothes (and the infinite variety of clothes we wear across the globe), speaking and writing (and the less than infinite—and rapidly declining—written and spoken languages of human history), laboring (and the different kinds of work and ways that work is organized in the past and now).  I could go on, but it will be more fun if you stop a moment and make your own list.
What this means is that as human beings we're always adapting to the culture and society that we created. But that's not all—we not only adapt to that very culture and society we created; we then create with that, and then we adapt to that, and then we re-create with that, and on and on and on. The key thing here is that we don't just adapt. We don't just behave. We don't just find our place in life. We don't just do what's already been done. We don't just use the things and ideas that have already been invented and thought. We don't just absorb what's already known. On the contrary, human beings are makers of objects and ideas and institutions. We're not just users of what came before and what's here now. We're always making something new out of what exists. We transform the very circumstances that we're in. We engage in becoming.
Again, this isn't what psychology has led us to believe. The fields of psychology and education in particular (but also medicine and law, and others) tend to fix us in a moment and to fixate on who we are. They tell us what kinds of products we are (personality types, cognitive styles, multiple intelligences, diagnoses, etc.). They don't relate to us as process, or help us to relate to ourselves and others that way. It's a rare person who walks around conscious of being a "historical being," aware of one's (and others) "becoming-ness," attuned to see what people do as "culture-making." I think that if we did experience ourselves in these ways, I wouldn't have to put quotation marks around these terms. That's another provocation.
Feelings Matter.
Another thing Vygotsky challenged was the way that psychology separated the intellect from emotions, concentrated on the intellect, and pretty much ignored the emotional. He thought this was a distortion, and the result was a one-sided view of what it is to be human. He believed that intellect and emotion were parts of a whole ("a unity") and were always at play in human development and learning—indeed, in all aspects of human life.
Here's something he wrote that's a favorite of mine. It's one of the reasons I call him a loving revolutionary. It's best if you read it slowly and out loud (and even better if you do it with other people).
Somehow our society has formed a one-sided view of the human personality, and for some    reason everyone understood giftedness and talent only as it applied to the intellect. But it is possible not only to be talented in one's thoughts but also to be talented in one's feelings as well. The emotional part of the personality has no less value than the other sides, and it also should be the object and concern of education, as well as intellect and will. Love can reach the same level of talent and even genius, as the discovery of differential calculus. [See Note 4 for where this appears.]
As psychology "advanced" over the 20th century, the gap between the intellect and emotion became wider and wider. Cognition—the term that replaced "intellect" for all the things we say happen in our heads, like thinking, remembering, imagining—rules the day.
It's ironic that after a century of demeaning emotions (After all, who's emotional?—Women.) they're suddenly getting some attention. In education we're seeing programs in "social-emotional learning" entering the curriculum. In psychotherapy, we're seeing courses and trainings in how to deal with clients' emotions. And neuroscience is all excited about "the emotional brain." But it's even more ironic that the same cognitive bias is at play in these new developments. In all of them emotions are treated as cognitive. I'll be writing a lot about this in later chapters, but here's one example of what I mean. A national organization promoting social-emotional learning describes it as "the processes through which children and adults acquire and effectively apply the knowledge, attitudes and skills necessary to understand and manage emotions" (Collaborative for Academic, Social, and Emotional Learning (CASEL, http://www.casel.org/about/). With emotions understood as things to be managed, and managing them understood as knowing about them, no wonder our brains are overweight.
Notes to Help You Go Deeper and Broader.
1. If you're interested in reading more about Vygotsky's life and work, in how Fred Newman and I understand him and have put him to use, and/or in the many other ways Vygotsky is understood today, here's some sites with written and spoken word:
Mind in Society (a short introduction to Vygotsky's own writing)
Lev Vygotsky (a documentary film about his life and current implementations of his ideas)
Mind, Culture and Activity on Vimeo (lectures and interviews with Vygotskian scholars)
Lev Vygotsky: Revolutionary Scientist (Fred Newman's and my understanding of Vygotsky's ideas and importance)
Vygotsky at Work and Play (my book showing some of what the Vygotskian-izing of psychotherapy, education, youth development and organizational development looks like)
2. Vygotsky questioned the very method that psychologists use to study something and found serious problems with adopting a natural science method for human beings—it might work for studying natural phenomena, but it's not a good fit for human beings, who are social and cultural and historical. As he phrased it, a psychology with a natural science method contains "an insoluble methodological contradiction. It is a natural science about unnatural things" and produces "a system of knowledge which is contrary to them."
To study human beings, we need a nondualistic method—in Vygotsky words:
The search for method becomes one of the most important problems of the entire enterprise of understanding the uniquely human forms of psychological activity.  In this case, the method is simultaneously prerequisite and product, the tool and the result of the study. (Vygotsky, 1978, p. 65)
Fred Newman and I pounced on this! It's a new way to think and do method—not as a tool that is applied and yields results, not as what we termed tool for result methodology (in our book Lev Vygotsky: Revolutionary Scientist). What we were excited by was that Vygotsky proposed a qualitatively different conception of method—not a tool to be applied, but an activity (a "search") that generates both tool and result at the same time and as continuous process. Tool and result are not dualistically separated, neither are they the same or one thing. They're elements of a dialectical unity/totality/whole. Method to be practiced, not applied, is what Vygotsky was advocating. And (in the same book) we called this tool-and-result methodology.
3.  The first time I met Lev Vygotsky's daughter Gita Vygodskaya was in her Moscow apartment. It was 1993. I had been invited, along with Barbara Taylor and two students and their fathers, to demonstrate our Vygotskian school, the Barbara Taylor School in NYC, to Russian educators and teachers studying at Eureka University. One of the Eureka staff arranged for the visit. It was memorable! In her 60s then, Gita was generous, charming and full of stories of her childhood with her father. She also told us some about her own interests and work as a psychologist, and shared her enthusiasm for the direction we had taken her father's ideas to support poor people to grow. Gita had never been to the US and the next year I and the East Side Institute arranged her first ever trip. We hosted a reception, a visit to the Barbara Taylor School, a conference presentation. And I showed her some New York City sites. Over the years, Gita and I spent time together a few more times at conferences in Moscow (where this time I brought All Stars Project's youth program staff and young people), Denmark and Geneva. The last time I saw Gita was in November 2009 at the home outside of Moscow she shared with her daughter, son-in-law and their family. With friends Elina Lampert-Shepel, Carrie Lobman and Dot Robbins, I spent a special night of conversation and comradeship with Gita and her family. Gita died seven months later at the age of 85.
Gita's reminiscences of her father appeared in several publications, including a monograph, Women Who Don't Sell Out, by Castillo International. Here's a bit of history from her chapter, Remembering Lev Vygotsky:
In 1937 a pamphlet by someone names Rudneva was published attacking Vygotsky. The booklet was called Paedological Perversion of Vygotsky. The author accused Vygotsky of being an idealist, which was a most terrible ideological sin. But only a few lines later she wrote that he was a mechanical materialist, which is worse even than an idealist! Of course she never explained how he could be both an idealist and a materialist at the same time. It was just name-calling. Vygotsky's rather humble theories of human development were accused of leading to reactionary political conclusions. If Vygotsky had been alive this pamphlet would have been enough for him to have been arrested and sent to Siberia. But he was dead.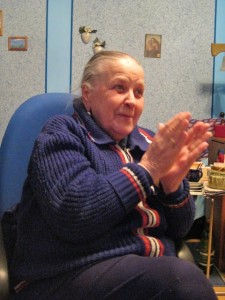 4. The quote from Vygotsky is cited in an article by a colleague of mine, Natalia Gajdamaschko (Simon Fraser University). It appeared in the original Russian version of Vygotsky's "Imagination and Creativity in Childhood" (published in English is 2004 in the Journal of Russian and East European Psychology).