Chapter 1. What's Knowing? What's Growing?
Murray Holzman helped me to become a good knower. He was my father. Fred Newman helped be to become a good grower. He was my mentor and friend. I'm thinking if maybe I tell you something about Murray and me, and Fred and me, you'll get some idea of what I mean by knowing and growing and how I came to distinguish them.
Murray was an ordinary working class Jewish man, born in Hoboken New Jersey to parents who came to the US from Eastern Europe (what's now Belarus) right at the turn of the 20th century. They were poor peddlers during that first decade in the metropolitan New York area, but "rose up" as so many Jewish immigrants did. Murray had dreams of going to college and becoming a doctor, but his father had died, his mother fell ill and there wasn't money. He worked a series of jobs in cities in the northeast and by the time I was born he was working in accounting departments of retail businesses.
Among my earliest and strongest memories of my dad are the games he would play with me when he came home from work. He'd eat his dinner in silence (we kids ate before he came home) and then it was time for me to recite the 50 states in alphabetical or chronological order of when they became states, or name the 50 state capitals. If I got all of them right, he'd give me a quarter or a dollar, depending on how difficult the task. I quickly learned to love the knowing game.
Murray taught me to love baseball. For him—and thus for me in my childhood—loving it included knowing it. When he took my brother and me to games, along with our hot dogs we'd get a scorecard and meticulously fill in the details of every play and player. I don't fill in scorecards anymore, but I still believe that a huge part of loving baseball is knowing the game and the players.
You might think that since Murray was into knowing he had big ambitions for me to go to college, become really smart, and have a successful career. You'd be wrong, though. He wasn't an intellectual kind of guy who read books or followed current issues or put himself in situations to see and learn new things. He didn't push me in any particular direction. I think he just enjoyed the knowing game and wanted me to enjoy it too.
But I was a good student, went to college and continued on to get a PhD. I developed a love for knowledge and, more important, curiosity about how it's created. I realized I wanted to be a knowledge creator! In actuality, a research psychologist. Murray died just as this realization was coming into being. And he seemed pleased.
Fred was a not so ordinary working class Jewish man. He was born in the Bronx New York into a working class family that became poor when his father died suddenly. Fred was very smart but a mediocre student, socially shy but clever, creative and helpful to others. He sold shoes, worked in a machine shop, served in the Korean War, went to City College on the GI Bill, and then got a PhD in philosophy from Stanford University.
Fred went on to teach philosophy. He loved teaching and was really good at it, but he kept getting fired. That's because he gave all his students A's. At that time, a college deferment kept young men from being drafted into the Vietnam War, and Fred wanted to be sure he in no way contributed to any male student's expulsion. After a few years of this, Fred left his last teaching job at New York's City College and, with a handful of students, started organizing in the City's working class communities. He was politicized and the academic ivory tower felt stifling to him.
Fred and his followers organized poor people to fight for their rights. They set up free health clinics and free schools. They read Karl Marx and other communist and socialist leaders and thinkers. They met with left political groups. Fred created a radical form of therapy he called social therapy. It grew out of his own successful experience being in therapy, his understanding of how our society is what makes us sick, and his belief that people could transform how we "are" because it's our activities that create how we think and relate to ourselves and others—in other words, it's not "mind over matter" but "matter over mind."
I met Fred when I was thirty years old. I had just completed my PhD research and had begun my first post-doc job as a research associate at the Rockefeller University's Laboratory of Comparative Human Cognition in New York City. I was invited to hear Fred speak on the topic "Marxism and Mental Illness." The person who invited me thought I would be interested in Fred's ideas, and he was right! Even though I knew nothing about either Marxism or mental illness, I knew good ideas when I heard them. And a smart guy when I saw one. Here was one hell of a knowledge creator, I thought. As good as the best professors I had studied with, and more. The "more" was Fred's passion and his politics—neither of which he hid at all. According to Fred, Freud was brilliant, but he was wrong about human beings and how to discover things about us and help us when we are in trouble. Social science was in crisis, Fred said, lagging far behind physics and the natural sciences, and ignorant of important conceptions from philosophy of science and language. Society was in crisis, he said, with the field of psychology supporting an economy and culture of unequal wealth and creating a mass psychology of passive and isolated individualism.
After that lecture I talked with Fred on several occasions and took a study group with him. By the next year, he and I were working closely together on creating an independent institute to grow social therapy, research it, write about it and bring it into the mainstream of progressive and alternative psychologies. We continued our partnership for thirty-five year, until he passed away in 2011.
It didn't take me long to discover that this man who knew so much was no knower. He simply didn't believe that the path to better mental health or better schools or better families or a world without poverty or war was through knowing what to do. We could never gain enough knowledge to know what to do—not because we weren't smart enough, but because it isn't possible to know such things.
Fred's questions were never about knowing. He didn't ask, "What do we know about that?" He asked, "What did we see? What did we do? What can we build? What can we create? What can we organize? How can we grow?" As a therapist, he asked clients how he could be of help; he didn't—he couldn't possibly—know. They'd have to create their helping relationship and the help. And so began an improvisational conversation. As a teacher and trainer, he asked students how he might be of help to them learning whatever they had come to learn; he didn't—he couldn't possibly—know. They'd have to create the environment to learn and the learning. And so began an improvisational conversation. As a community and political organizer, he asked the community what they should do in response to a specific situation; he didn't—he couldn't possibly—know. They'd have to discover that together. And so began an improvisational conversation.
A skilled improviser himself, Fred related to me and to everyone he came in contact with as an improviser. Talking together was an act of creativity, not a communication exchange. In conversation you would eventually find yourself saying things you had no idea you had been thinking until the words came out of your mouth. (That would often come after you ran out of smart things to say based on what you knew!)
Fred used what he knew in the service of creating, whether that was an intimate conversation, a new meaning, a jointly discovered understanding, an innovative approach to an issue, a new product, or a new direction in tactic. As his intellectual partner in matters psychological and philosophical, I learned to appreciate how operating with knowing as the priority—as not only the means to an end, but also the end itself—constrains creativity and risk taking, keeps us and our dreams and ideas small, and stops us from continuing to grow and to learn new things. I also learned a way to use what I know to create something other than and different from what I know. I've come to call this way of being in the world with yourself and with others "non-knowing growing."
Both Murray and Fred gave what they had to give, and they were good and loved people for that. They gave me a love of knowledge and the aspiration and ability to create it—and the support and tools to experience its limitations and transform from a knowledge-creator into a growth-creator.
**
It might surprise you to know that growth-creators are not a rare breed. On the contrary, they literally populate the planet. With rare exceptions, every family has one or more growth-creators. We call them parents or caregivers. Let me explain.
When infants are born they don't know much of anything. They don't know what things are and what to do with them, or what anything or anybody is called. They don't know what knowing is—or even that it is! Yet they grow by leaps and bounds. Within a year or two, they've developed many, many ways to engage the things and people in their world. They've transformed into conversational partners, babbling and saying a few "real" words. They've made meaning out of most of the sights and sounds in their environment. They've developed likes and dislikes, and ways of relating to things they find joyous and things they find unpleasant or scary. They engage in full-time non-knowing growing—in which learning and development co-create each other.
How do they do it? It's not like they make a decision to not know. And even if they're hard-wired for human development, they couldn't possibly do it on their own. No, infants, babies and toddlers do their non-knowing growing in relation, with others. We adults (and older children) make it possible for them to grow. We simply don't relate to them as knowers. That means we don't relate to them either in terms of what we think they know or what we think they don't know. (We don't not talk to them because they don't know how to talk, and neither do we tell them, "Don't speak until you know how! Here's a grammar book and a dictionary."). No. What we do is relate to them as developing, as growing, as becoming. As not just who they are and what they're capable of at this moment, but also as who they're becoming and what they'll soon grow into and what they'll soon learn to do. That's what we're doing when we "fly" a spoonful of food into their mouths, help them wave "bye-bye," read a picture book with them, and keep up a stream of chatter for much of the day.
This works! Babies and toddlers become many things—speakers and scribblers and walkers and "dancers" and "singers" and "readers." They learn developmentally. They become learners. When knowing doesn't figure into the equation, when it's not what dominates a relationship, that's when we learn best.
But, alas, this way of relating doesn't last. Non-knowing growing activities soon take a back seat to those devoted to knowing, typically at the time children start school (which, these days, can mean pre-school). And since babies and toddlers are such good learners, they quickly learn about the knowing game that is our educational system. Whether they're good at it or not, they learn it's valued. When this happens, learning gets separated from growing and attached to knowing, and we don't learn so well anymore.
We also don't imagine so well anymore, and without imagining we limit how we experience, and when we limit how we experience, we limit how we learn. In early childhood, the line between reality and fantasy is very fluid, which allows our experiences and imagination to constantly influence each other. Playing at being super heroes or animals in the zoo build on and transform elements of children's experience and create something new with them, something other than what was experienced. Which in turn is another experience. To potentially learn with and from.
The irony of growing up is that the greater richness of our experiences doesn't always get put to use by our imagination to create new experiences. That's because the line between reality and fantasy becomes rigid, and "what's real" comes to dominate our lives. "Oh, that's not possible. It couldn't happen. Dogs don't moo. Numbers don't dance. Trees don't talk." Our imaginings too often become limited by "what's real" —which means we wind up thinking small. So small that little changes are hailed as "revolutionary"—when what they produce is a slight reform of a system. (The easiest target here is educational reform. More about that in Chapter 7.) Small enough that everyone from business leaders and social change agents to car buyers are urged to "think outside the box."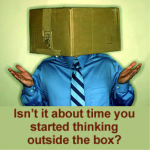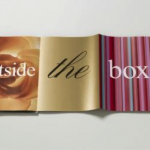 "Thinking outside the box" isn't enough. We need to give up the box completely. We need to "think without a box."
But of course we can't. Not completely anyway. But that's OK. Because developing ourselves and our world doesn't depend on whether we actually can think without a box. It hinges on whether we can imagine that we can.