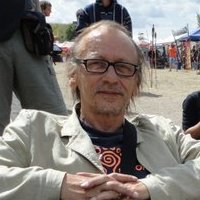 November 19, 2012
This morning I learned that a dear friend of mine, Volker Bunzendahl, passed away last week. Volker was an exhuberant  and passionate psychologist and human being. He moved from Germany to Denmark decades ago and made a home for himself and his family in the north of the country—among school children and teachers, squatters, university students, hippies, the "maladjusted." He will be deeply missed.
Volker and I first met in 1997 when he responded to an announcement of a conference Fred Newman and I organized with the East Side Institute—"Unscientific Psychology: Conversationas with Other Voices." Volker showed up and was stimulated by the first day of talks by some leading lights of the postmodern and critical psychology worlds—and enchanted by the second day of play and performance with the ideas presented the first day. He fell in love with performance and became an ally in promoting and practicing the most methodologically radical aspects of Lev Vygotsky's psychology and CHAT (cultural historical activity theory). At that conference, Volker met my friends from Zdravo da Ste and for many years he and I spent time together with them at  their annual meetings in Serbia. Sometime his wife Elisabeth would come with him—an added treat for all of us. The last time I saw Volker was last March in Copenhagen. He was, evidently, ill, but didn't let on. I wish I had known.
Volker was a complex man. His intellectual work was more mainstream than his anarchist politics. He loved to be silly, to sing, to dance, to make people play—so much so that you might think him frivolous. But you'd be wrong. He was a serious scholar of Vygotsky, Bakhtin, and much more in the realms of psychology, education, anthropology and cognitive science. He was an innovative teacher and counselor, inspiring scores of children and young people and infuriating the powers that be. He loved community and he was a loner. He passionately wanted people to be happy.
Volker was in/behind/ahead of/inside/outside of his/our time—a modernist and a postmodernist, a revolutionary and a reformer, a hippie and a family man, a serious player and a playful intellectual, outrageous and traditional. I invite you to get to know him through the videos, audios and writings on his site, Performing Hope in an Alienated World.