November 3, 2012
Far Rockaway, Queens is one of the poorest, most isolated and forgotten neghborhoods of New York City,  About  60,000 people live there on the Rockaway penisula jutting out into the Atlantic Ocean. More than 80% of them are Black and Latino, and the median income is under $28.000/year. Until yesterday, Far Rockaway residents were ignored by the City, Red Cross and other aid, and the media—with no food, water, heat or electricity, and no way to get anywhere.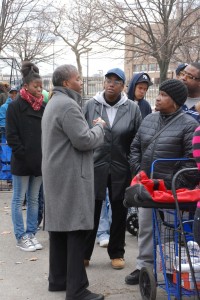 That changed when Lenora Fulani sprung into action. Community activist, developmental psychologist, my friend-colleague-mentor for 35 years, Dr. Fulani went to Far Rockaway herself, talked to people and supplied much needed social-emotional support. She made noise, calling on NYC leaders and mobilizing the greater NYC community to get help out there.
Here is a brief report with some photos, by Cathy Stewart (Manhattan County Chair of the Independence Party of New York), who accompanied Dr. Fulani.
Far Rockaway After Hurricane Sandy
After Dr. Fulani got calls from folks stranded without electricity, food or water in the projects in Far Rockaway and after speaking with State Senator Malcolm Smith, who had been working to address the situation, we headed out there on Thursday to make sure people were getting the services they needed. Dr. Fulani, Antoine Joyce and I met State Senator Smith and toured the area. While much of the city is in need of help, Far Rockaway faces especially difficult circumstances because it is already so poor and isolated. We called the Red Cross and dozens of folks across the city joined in an effort to lobby them to make it out there with food and water. Dr. Fulani spoke with Mayor Bloomberg told him about the situation, and he said he would get the Red Cross and National Guard there. At 4 pm yesterday, military trucks arrived with food and water. It's a start.