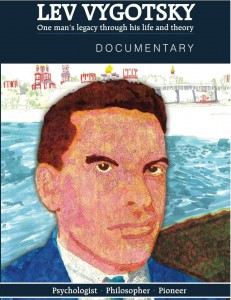 February 15, 2009
I am happy to report that a new documentary film, Lev Vygotsky: One Man's Legacy through his Life and Theory, is being released this month. The filmmaker is Valerie Lowe who, in addition to making films, is an adult educator, corporate consultant and staff trainer in British Columbia — and a completely lovely person. I got to know Val when she was just beginning this project a few years ago and have been following its development. 
I also got  pre-release glimpses of the film this past fall when Val showed segments at the ISCAR (International Society for Cultural Activity Research) conference in San Diego and the Performing the World 2008 (PTW'08) conference in New York City. The film uniquely combines the political-cultural history of Vygotsky's life with illustrations of contemporary Vygotskian practices in several countries, and is comprised of interviews with Vygotsky family members Gita L. Vygodskaya and Elena Kravtzova, photographs, archival footage, and commentaries by contemporary Vygotksian scholars, Michael Cole, Lois Holzman, Vera John-Steiner, Alex Kozulin, Tamara Lifanova, Luciano Mecacci, and James Wertsch. You can view sections of the film at the website media page. (You can see about 5 seconds of me in one of them.)
It was a  privilege to have been included in "Lev Vygotsky" and, even more, to have been able to introduce Val and viewers to the some extraordinary Vygotskian practitioners.
Some colleagues and I are now planning a New York premiere of the film to take place in March or April. Watch for the announcement!